These Women are Fighting Climate Change in Miami's Vulnerable Neighborhoods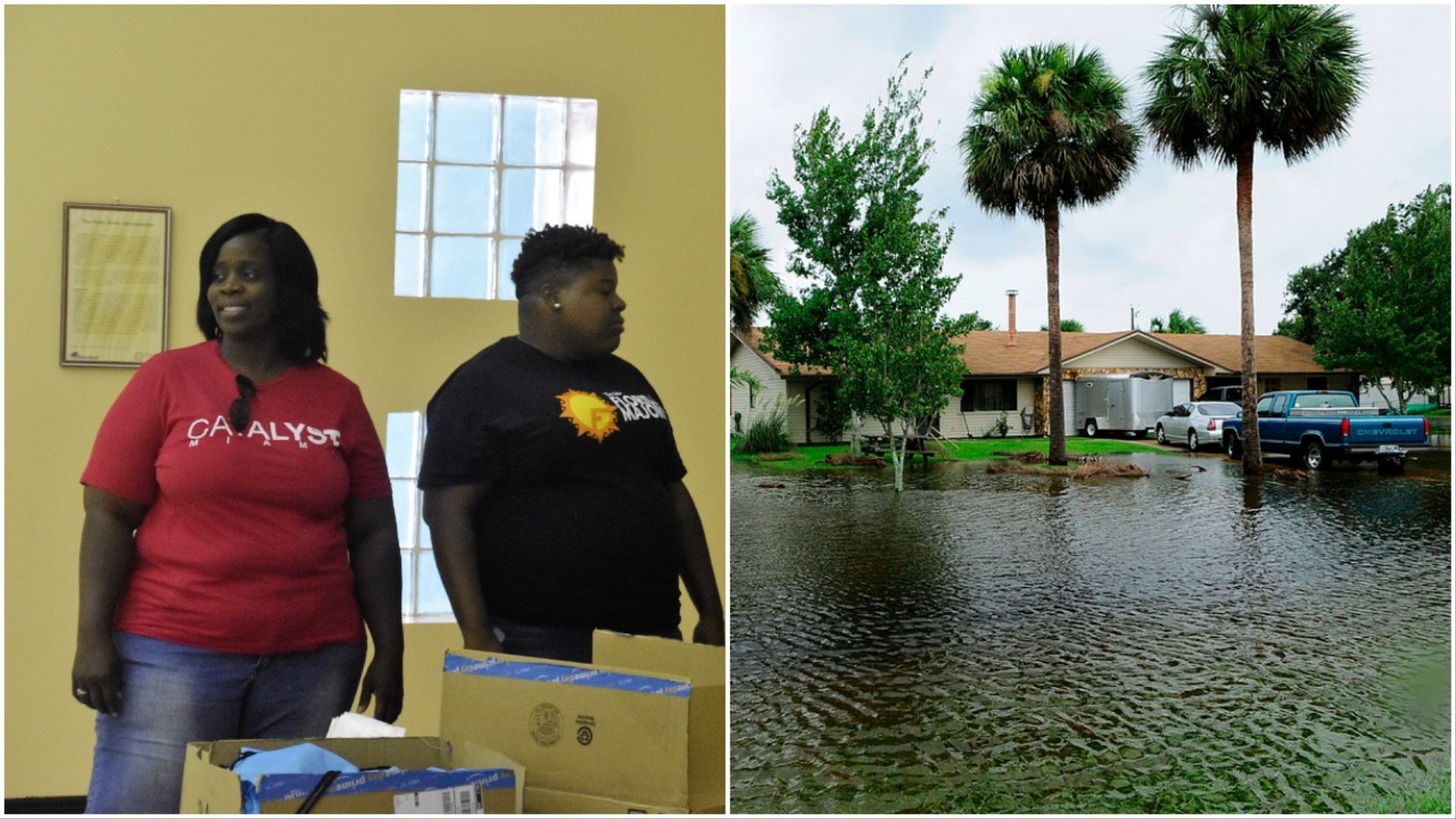 Climate gentrification is creeping into southern Florida's underserved communities, but a group of female activists is fighting back.
By Meg Charlton
Aug 28 2017, 12:00pm
It's been 25 years since a hurricane hit Miami. That storm, Andrew, made landfall in August of 1992 and was, at that time, just the third recorded Category 5 hurricane ever to hit the continental US. It was powerful, fast and devastating; adjusted for inflation, it is the second costliest storm in American history, surpassed only by Katrina.
Valencia Gunder, now 33, grew up in Liberty City, a historically black and long impoverished neighborhood in the city's Northwest. She jokes that her main memory of how the storm affected her was that she didn't have to go to school. But while she still recalls going without clean water or electricity for more than two weeks, Liberty City was mostly spared from the storm surges, flooding and destruction that devastated areas to the south.
"My community wasn't in as much shambles [as others]," Gunder says, "because we're at such high elevation."
In Miami, "high" is relative. Average elevation in Miami is barely six feet above sea level; Liberty City sits at over twice that. For comparison, the highest natural elevation point in the entire county is only 25 feet. In Manhattan, another area set to suffer from rising seas, the high point is 265 feet. That one of the poorest communities lies at one of the highest elevations is not accidental.
In many other cities, including some in the US, like New Orleans, the most underserved communities are often the most low-lying. Not so in Miami. Here, the glimmering white sand beaches were always the most desirable pieces of real estate, and decades of redlining, segregation and general discrimination kept many black Miamians away from the water.
Until 1945, none of the beaches in Miami were open to black residents. Even then, they only opened on a segregated basis. Last fall, Miami was ranked by Bloomberg as the most unequal city in America, with housing being a main driver of its wealth disparity. Now, a combination of rising seas, a growing population and unaffordable housing seems poised to turn communities like Liberty City, long shunned for development, into increasingly hot commodities.
"They wanted to keep them away from the beach, that beautiful beach," Gunder says. "And now they want to take our space."
Bereatha Howard's father lives in Liberty City. She says she only began to understand the causal effects of climate change in the last year. As far as environmental concerns go, emergency preparedness and heat are at the top of her list. There is little-to-no tree canopy in the neighborhood, and Howard says that when people can't afford cars and have to walk or wait for public transport, that heat can have real health consequences.
"I was born and raised in Miami, so I'm familiar with the summer, but it's not just hot like it used to be," she says. "Climate change is affecting the weather and its affecting people."
But Howard sees the accelerated gentrification of her neighborhood as at least partially linked to climate change.
"You can't help but see this when you ride down the street." She describes furniture left on the side of the road and flyers advertising "I Buy Ugly Houses," a real estate code for snapping up run down houses for cash. She sees more and more people evicted or bought out of their homes at rock bottom rates and hears stories of desperate families selling for $500 gift cards.
Jesse M. Keenan is a professor at Harvard's Graduate School of Design who studies urban development and climate adaptation. He has deep roots in Miami — his family moved to the city from Charleston in the 1880s — and says that there's "no doubt" that the patterns of development in Miami mirror its history not only of redlining but also (in his words) "just blatant racial discrimination."
"Whether you were Catholic or Jewish or Black or Hispanic or whatever, there's a deep history of discrimination," he says, adding by way of example: "There's a reason Little Haiti [the neighborhood adjacent to Liberty City] is where it is. There are deep, deep patterns that have arisen."
[caption id="" align="alignnone" width="701"]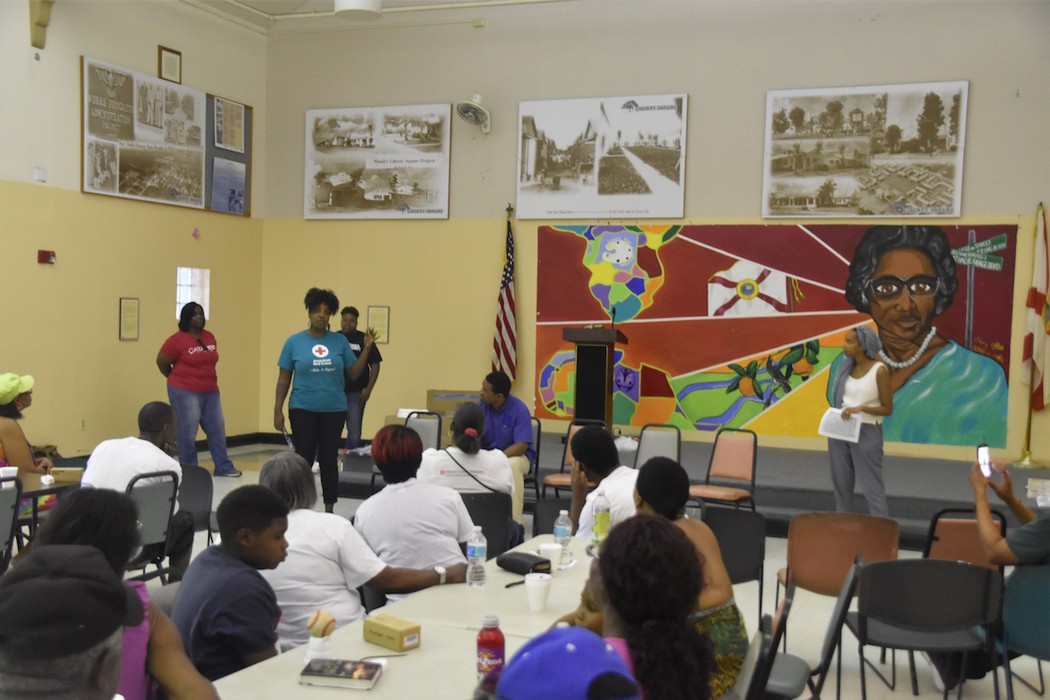 A meeting of the New Florida Majority. (Photo via New Florida Majority)[/caption]
He's currently researching how climate is affecting gentrification in Miami, where that same Little Haiti is now being touted as the city's hottest neighborhood. While his results won't be ready until later this year, he says broadly that "if you don't realize that climate change and affordable housing are deeply interconnected, you're missing the point."
Gentrification in neighborhoods like Little Haiti, he cautions, can't all be attributed to climate change. Miami is bounded by the twin natural barriers of the sea and the Everglades, so the city can't sprawl outwards as much as others. This means that centrally located neighborhoods can be the victims of what Keenan calls infill gentrification, essentially the "normal" creep of wealthier residents and businesses spreading into neighboring areas as those previously gentrified fill up with newcomers.
But as people grow increasingly aware of climate change, Keenan sees them using it as "a catch all" for other economic forces that are producing change in the city.
"What's happening in Miami with climate gentrification, although I think it's is a long term problem," he says, "we don't have a lot of empirical evidence that it's happening at the household level."
At the investor level, he says there is clear evidence that climate concerns are contributing to investment decisions in high elevation areas. "But among a weighted ordering [of their reasons for investing]," he says, "that is not a top priority by any means."
However difficult it is to prove in its early stages, the inescapable realities of Miami's topography mean it will be, as Keenan says, a long term problem. And while researchers work to nail down the quantitative proof needed to track these changes, the anecdotal evidence builds up on the ground.
Caroline Lewis is a former school principal and the founder of the CLEO Institute, a Miami-based nonprofit focused on climate justice and environmental literacy in the city's most vulnerable neighborhoods. In a recent series of listening sessions in Liberty City and other communities, CLEO and city officials heard from residents about their top environmental concerns and priorities.
Lewis hears plenty of that anecdotal evidence, but concedes that without climate education, an offer to sell can be seductive. "If they offer to relocate you to Homestead to a two bedroom apartment for the price you're paying in Little Haiti or Liberty City now and it comes with air conditioning and a different quality of life?" she says, "You're going."
But Homestead is a low-lying community, far from the center of the city and during Hurricane Andrew, it bore the brunt of the destruction. A move from the high ground of Little Haiti to the low ground of Homestead could, under the wrong circumstances, be a death sentence.
In one of those workshops, Lewis showed residents in Little Haiti and Liberty City an interactive map created by Florida International University's Eyes on the Rise project.. It allows users to view elevations around Miami and, through a slider, watch how different rates of sea level rise will encroach upon the city.
"We slid the water levels from one feet to two feet to three feet sea level rise and inundation," she says. "And they saw the East and the West parts of the county flooding and the airport disappearing and the only dry land left, pretty much, was where they were. And you could hear the audience going, 'Oh, that's why they want our land.'"
Valencia Gunder, the Liberty City native who lived through Hurricane Andrew, remembers volunteering in Homestead in the aftermath of the storm and seeing the destruction firsthand. She is now an organizer with New Florida Majority and a climate advocate for her neighborhood and along with Bereatha Howard, recently ran a hurricane preparedness workshop for residents of Liberty City. She first came to climate activism through those listening sessions with CLEO. She's become a dynamo in the short time she's been working, fighting for communities like hers to have a voice as the city puts together its resiliency and adaptation plans.
"Environmental and climate issues are more than science," she says. "They're people issues."
It's now up to Miami, and to advocates like Gunder, to make sure all of the people are heard.
Head to the American Red Cross — who participated in the Liberty City workshop — to learn how you and your community can prepare for worsening storm seasons. And sign up to support Mayors for 100 and make sure your local elected officials are pursuing renewable energy options in your hometown.
—–
This article was originally posted in VICE IMPACT.