Latest Climate Threat for Coastal Cities: More Rich People
[caption id="" align="alignnone" width="600"]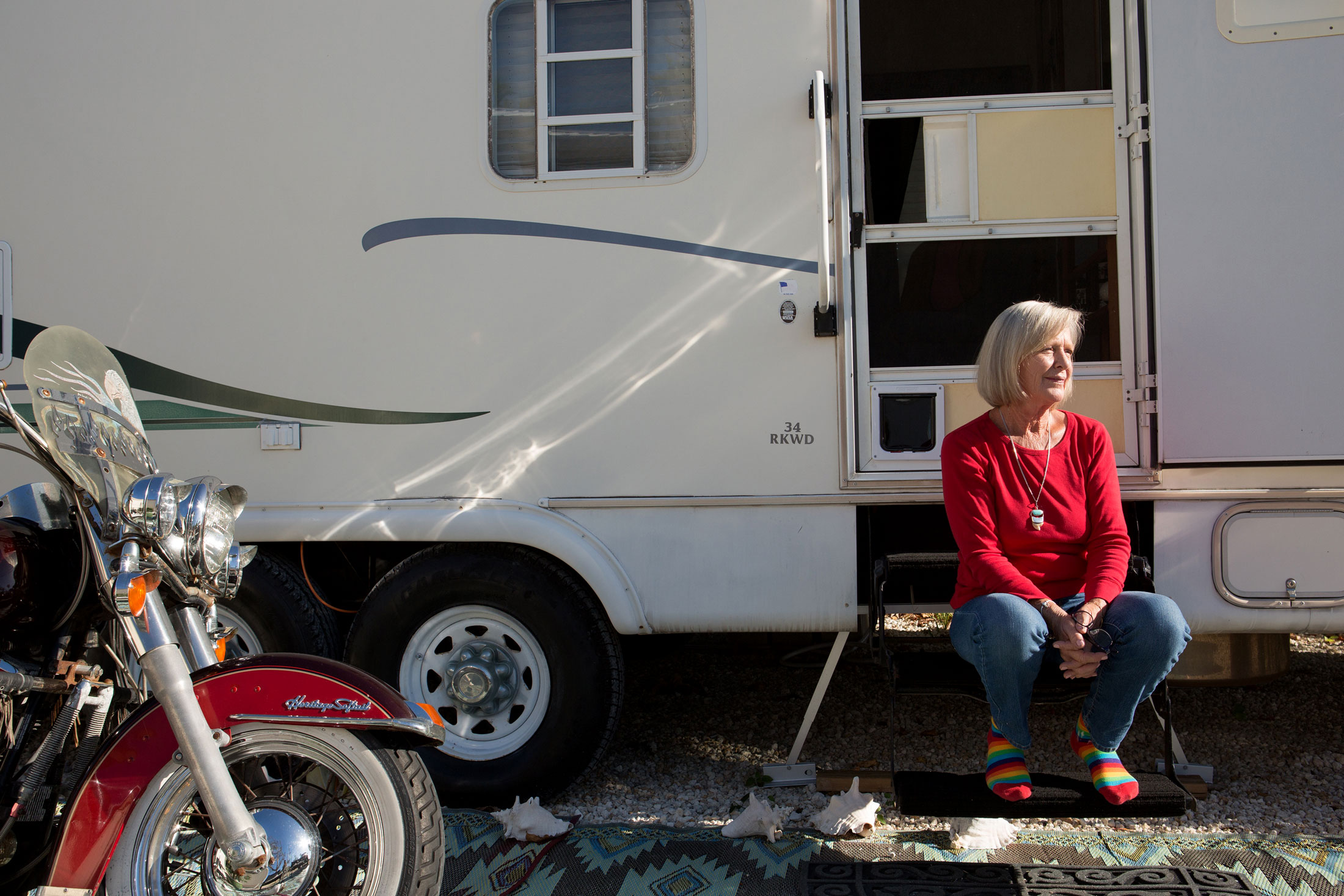 Diane Gaffield, Photographer: Alicia Vera/Bloomberg[/caption]
April 23, 2018
By Christopher Flavelle
From Bloomberg
When Hurricane Irma reached Florida's Big Pine Key in September, it caused the floor of Terry and Sharon Baron's cream-colored mobile home to collapse. On Marathon Key, twenty miles north, the winds lifted Diane Gaffield's mobile home off its concrete pad and smashed it against her neighbor's house.
A few blocks over, Kimberly Ruth's mobile home simply vanished into the storm.
Irma was only the start of their troubles. The Florida Keys building code effectively prohibits replacing or substantially repairing damaged mobile homes because of their vulnerability to hurricanes. That leaves people living in one of the nearly 1,000 trailers and RVs damaged or destroyed by the storm with three options: find sturdier but more expensive accommodation, repair or replace the homes and hope code officials don't notice, or leave the Keys.
"There's no place to live," said Sharon Baron.
Around the country, the government's response to extreme weather is pushing lower-income people like the Barons away from the waterfront, often in the name of safety. Those homes, in turn, are often replaced with more costly houses, such as those built higher off the ground and are better able to withstand storms. Housing experts, economists and activists have coined the term "climate gentrification."
Flood Insurance
Ever-stricter building requirements make homes more expensive to construct. Rising premiums for federal flood insurance make them costlier to live in. And when local governments issue bonds to pay for sea walls and other protections, as Miami did last year, taxes are often raised, further increasing costs.
[caption id="" align="alignnone" width="600"]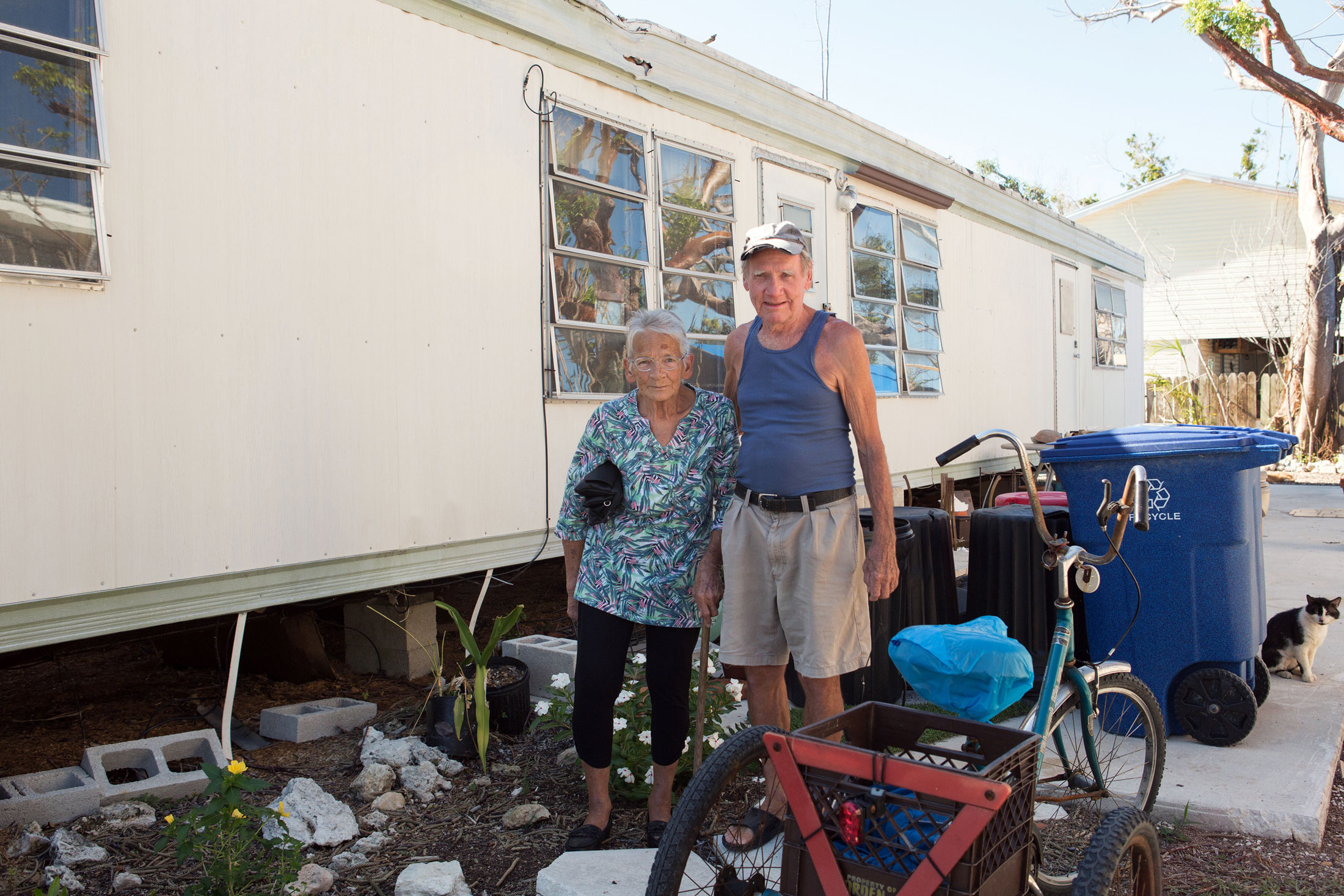 Terry and Sharon Baron stand in front of their mobile home damaged from Hurricane Irma. Photographer: Alicia Vera/Bloomberg[/caption]
Hurricanes and floods disproportionately damage lower-cost homes, which tend to be older and more vulnerable to water and wind. And when public housing is destroyed by storms, it may not be replaced at all, further shrinking the available options for people who can't afford rising market rates.
On a recent sun-bleached afternoon, Sharon Baron, 73, stood on a patch of gravel outside the temporary trailer that she and her husband got from the Federal Emergency Management Agency and considered their options.
After 44 years in the Keys, they don't want to leave. But together they earn just $32,000 a year, mostly from Social Security, so can't afford the $2,000 a month they say it costs to rent anything nearby. Each month, a FEMA employee stops by, gently nudging the couple to find a new home by June 1, when the next hurricane season starts.
Tourism Impact
"I'm just like a ship with no rudder," said Terry Baron.
Gaffield, who rented the trailer that was destroyed by Irma, said her landlord is building a high-end vacation rental home on the spot she used to live. She echoed a sentiment that seemed common among residents: The wealthy, and the investors who cater to them, are pushing locals out, building climate-resilient homes that most people can't afford.
Residents, researchers and housing advocates say global warming is beginning to shift not just the physical characteristics of coastal cities, but their economic and demographic makeup as well. And local officials are starting to worry about it.
[caption id="" align="alignnone" width="600"]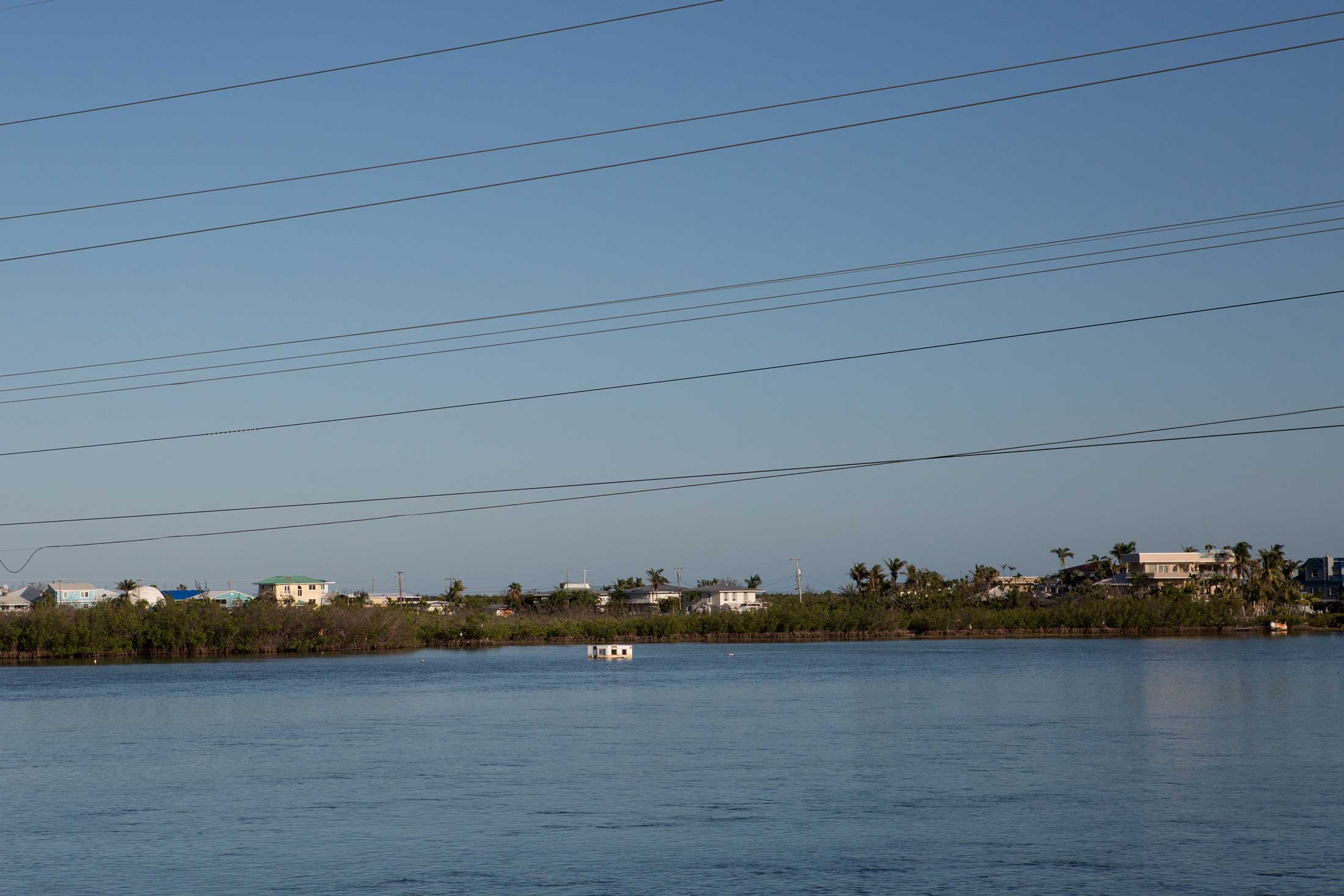 A mobile home blown into the water during a hurricane is seen in the water near Big Pine Key. Photographer: Alicia Vera/Bloomberg[/caption]
"Hospitality is the backbone of the economy here," said Christine Hurley, the county official responsible for buildings, planning, and code compliance in the Florida Keys. She said the tourism industry can't function without workers who can afford to live there. "The hotels and the restaurants, are they going to have to start busing people an hour and a half from Miami?"
In Stafford Township, New Jersey, Hurricane Sandy in 2012 destroyed 3,000 homes. But its lasting effect was more subtle: the superstorm also reshaped the town's population. Developers have filled lots left empty by the deluge with larger houses, which command higher prices -- and therefore wealthier residents.
Property Taxes
"The demographics have changed somewhat dramatically," said Stafford Township Mayor John Spodofora. "I'm seeing $750,000 homes going up where there was a $200,000 or $300,000 home in the past."
That's good news for the tax base. Spodofora estimated that Stafford Township has rebuilt just 70 percent of the homes it lost, yet because of their higher value the town's property tax revenue has almost returned to was before Sandy. But it's also pushed less wealthy people away from the shore.
"They're moving further inland," Spodofora said. The effect of Sandy, he said, "kind of weeds out people who can't afford to live on those waterfront properties."
The increase in extreme weather has meant less housing for the poorest Americans in other parts of the U.S. as well. In Texas, hurricanes over the past decade have been particularly hard on public housing -- units that are often older and built in places that are especially vulnerable to flooding, where land tended to be cheap.
Public Housing
Among the toll inflicted by 2017's Hurricane Harvey, which caused widespread flooding in the Houston area, was the damage or destruction of almost 1,500 public housing units, according to data from the U.S. Department of Housing and Urban Development.
Local housing authorities, which administer those units with funding from HUD, face no federal requirement to repair or replace them -- and prior experience suggests many of them won't be.
Texas has yet to replace all of the 1,260 public housing units destroyed by Hurricanes Dolly and Ike in 2008, according to Maddie Sloan, director of the disaster recovery and fair housing project for Texas Appleseed, an advocacy group in Austin. She said Galveston, a city on a barrier island that lost 569 units to those storms, has replaced only about half of them.
As with the Keys, Texas's coastal areas suffer when public and affordable disappears, pushing people further inland, Sloan said.
"They have tourist-driven economies, and their low-income workforce has been displaced," she said. "This has a real economic impact on these cities."
Reverse Gentifrication
Brianna Fernandez, a data analyst at the American Action Forum think-tank, who studies the demographic effects of hurricanes, said that coastal areas often become wealthier after a severe storm.
[caption id="" align="alignnone" width="600"]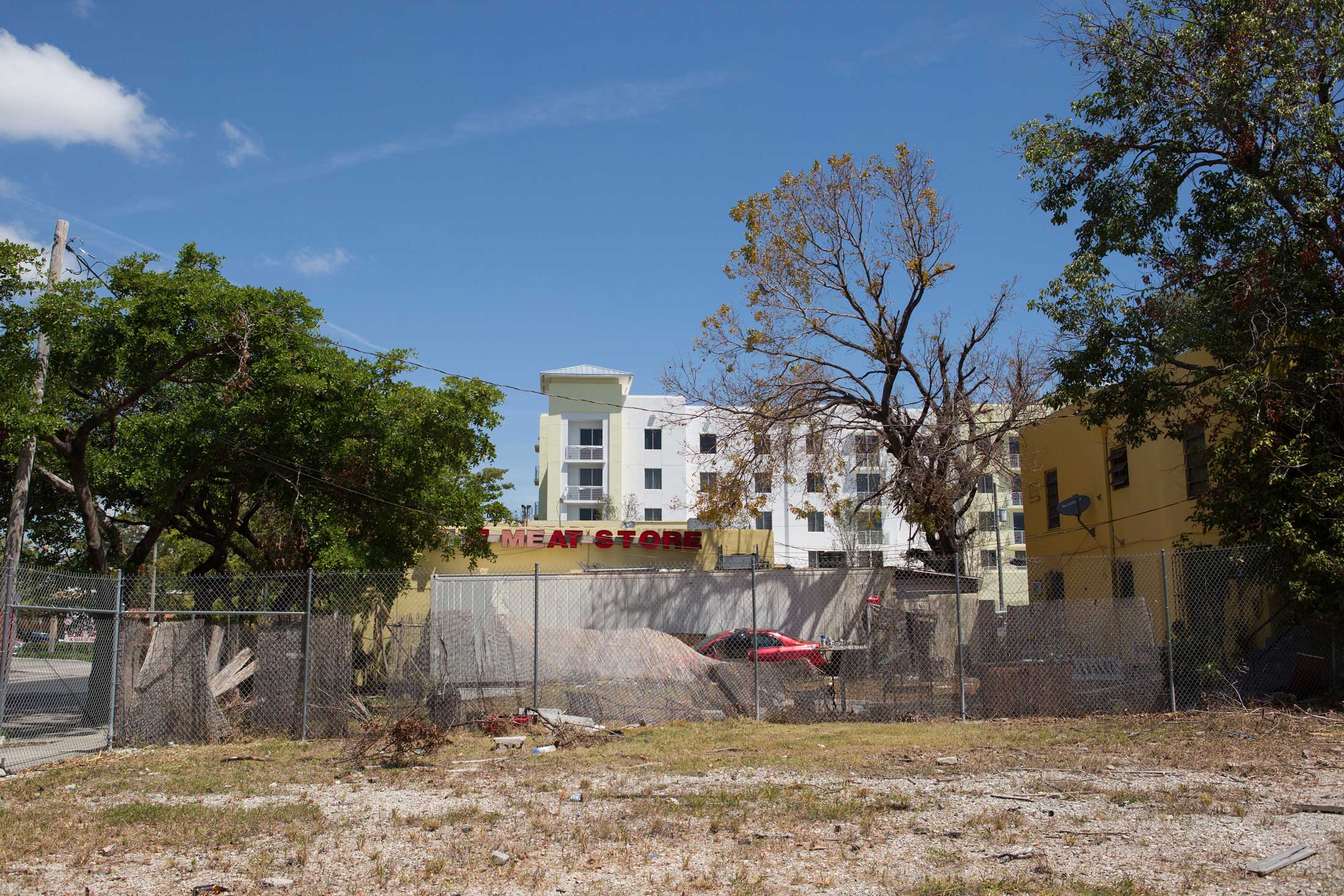 A new development is seen behind an abandoned lot in Miami. Photographer: Alicia Vera/Bloomberg[/caption]
Parishes in Louisiana and counties in Mississippi hit by Hurricane Katrina in 2005 showed an increase in median household income years later, long after the short-term boost of rebuilding would have faded, she said. The same was true in New Jersey counties hit by Sandy.
But the trend isn't true everywhere. Fernandez found that in Galveston and Orange Counties, the parts of Texas hit hardest by Ike, median income six years later had fallen by $6,000.
The explanation is straightforward, she said: in counties that are poor to begin with, hurricanes can push away wealthy residents and leave mostly the poor behind.
'Amenity Gradient'
Matthew Kahn, an economics professor at the University of Southern California who focuses on climate change, explained those different outcomes through what he called an "amenity gradient." Plainly put: in coastal areas that people find attractive, extreme weather will entice wealthy people to invest in homes, even as costs and insurance premiums increase. In coastal areas without that physical appeal, or whose appeal isn't widely appreciated, the opposite will happen.
"In an area that has no amenities, and that's now at greater risk of climate change, I don't see climate gentrification occurring," Kahn said. But in places that people want to live, like South Florida, the wealthy are willing to pay for that privilege -- even as others get priced out.
New research suggests the effects of climate gentrification are spreading further inland. In a just-published paper, Harvard University researchers found evidence that concern over flooding is boosting demand for higher ground, expanding the already exclusive band of real estate along coasts to include some formerly less desirable inland areas.
Flight to Elevation
Lead author Jesse Keenan, a lecturer in architecture, found that since 2000 or so, the value of single-family homes in Miami-Dade County has increased faster for higher-elevation properties, even after controlling for size, age and when they changed hands. That's increased demand in areas like Overtown, an historically black neighborhood, and Little Haiti, for years a magnet for immigrants from the Caribbean.
Carlos Fausto Miranda, a commercial real estate broker in Miami, said the increased interest in those areas reflects more than just a hot market; it also shows some degree of concern over sea-level rise, as well as the normal pattern of a growing and wealthy city.
"Our awareness has increased dramatically about this concern," Miranda said.
Housing advocates say that climate worries have exacerbated the existing pressure that increased development and rising property values put on low-income housing. In Overtown, a neighborhood just a mile from the shore, that pressure is evident: blocks of decrepit houses are interspersed with brand-new five-and six-story developments, painted in fresh pastel colors.
Poverty and Climate
Gretchen Beesing, chief executive officer of Catalyst Miami, a community-development and advocacy group, said she's not surprised to see data suggesting that climate change is accelerating the gentrification of places like Overtown.
[caption id="" align="alignnone" width="600"]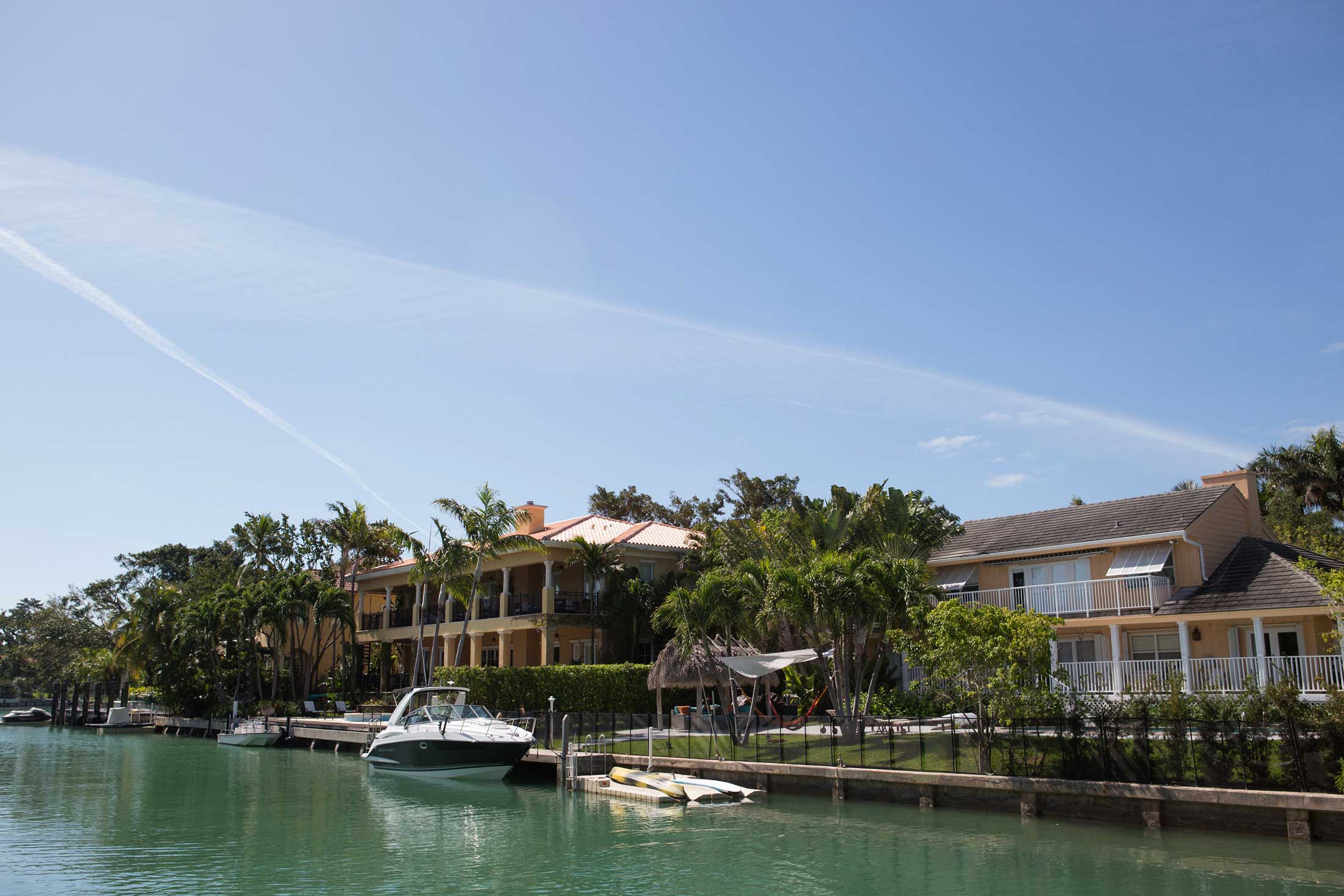 Residential community in Key Biscayne. Photographer: Alicia Vera/Bloomberg[/caption]
"We see climate as a really important issue that intersects with poverty and financial security," Beesing said. "For some families, this may feel like an opportunity to get cash for their house. But the problem is then, where do they go?"
A more contentious element of the Harvard study may be its conclusion that prices for single-family homes along the water are appreciating more slowly, and may eventually fall. James Murley, Miami-Dade County's chief resilience officer, pointed out that Fisher Island, just off Miami's coast, is the most expensive zip code in the country.
Still, Murley acknowledged that increased flooding and other types of extreme weather would have some effect on real estate trends -- the question is what. "I don't know where all this plays out," he said.
Martha's Vineyard
Keenan said he doesn't expect places like Miami Beach and Key Biscayne to become poorer; rather, he thinks the populations will fall over time, leaving only the very rich.
That's what worries some people in the Florida Keys. Lisa Tennyson, a local official who deals with flood insurance, said it's essential to prevent the islands from turning into a tropical versions of Martha's Vineyard in Massachusetts.
"I've been to Martha's Vineyard," Tennyson said. "It's not an interesting place to live."
If the Keys can't find a way to retain a mix that includes working class and middle class residents, Tennyson said, "that would be the future, right? Quiet, boring, rich."
—–
This article was originally posted on Bloomberg.